Snorkeling and Jungle Adventures
One of the Riviera Maya's most unique characteristics is its abundance of underground caves, cenotes.
These cenotes offer wonderful diving experiences, and often require interesting jungle adventures to reach.
These tours are a great way to experience the unique landscape of the Riviera Maya. Traversing the lush jungles above ground, and then snorkeling in underground caverns the next is a truly unique experience that you will only find in this region of Mexico.
Riviera Maya Snorkel Tours & Jungle Adventures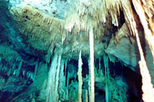 $99.99
As featured in the critically acclaimed 2001 IMAX movie, Journey Into Amazing Caves, the 2005 Hollywood movie, The Cave and the award winning 2007 BBC Planet Earth television series, the Yucan Peninsula is home to some of the most extensive systems of under-water caverns and caves in the world!
Certified open water divers are given the opportunity to experience the ancient and timeless forces of this natural dreamland!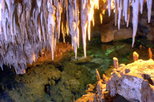 $39.99
This unique snorkeling adventure allows you the freedom to tailor your own cenote snorkeling package, spending as much or as little time as you wish visiting Tak Be Ha and Hilario's Well.
Join this journey of discovery in the sacred Mayan pools and acquaint yourself with the pristine geological marvels and aquatic life contained within the crystal clear waters. Don't miss out on the experience of a lifetime!