Adventure Tours
Would could be more fun then cruising the beautiful, lush jungles of the Riviera Maya in an awesome ATV or Hummer.
Driving through the jungle on a 4 wheel drive vehicle is really an amazing experience. The journey to and from your activities might even be more memorable then the activities themselves.
These Adventure tours often have additional activities like ziplining, snorkeling, and visiting ruins included.
So if you really want to experience the Riviera Maya, Adventure tours offer a way to fully immerse yourself in your suroundings – literally and figuratively.
Riviera Maya Adventure Tours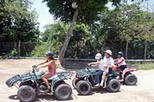 $66.00
Take a ride on the wild side! Drive your own fully automatic All Terrain Vehicle through the tropical landscape of the Riviera Maya area. This your is specifically designed for those seeking real adventure. Your guide will take you on a fun filled ride through the Caribbean's exotic jungle and coconut palms on a journey that is sure to be the highlight of your trip.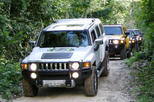 $129.99
Explore Cancun like never before – through the jungle and in a Hummer! Hop aboard a fully automatic Hummer and take the adventure of a lifetime, visiting an authentic Mayan ruin and interactive zoo, snorkeling in an underground cave and going on a thrilling ziplining adventure! Book your all-inclusive Cancun Hummer tour today and experience the very best of the Riviera Maya!