Deep Sea Tours
The Riviera Maya is located along the Caribbean shore with beautiful waters and beaches covered in white sand. Therefore, going out on the waters of the Caribbean and seeing the shore vanish in the distance is a real treat.
You can go fishing, sail on a giant catamaran, travel to remote locations and then go diving or snorkeling, or just view the abundant marine life found in the waters of the Caribbean.
There are a many different aquatic activities that you can partake in through various tour vendors.
Below are some of our featured deep sea tours.
Riviera Maya Deep Sea Tours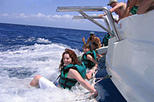 $94.99
Imagine cruising along the Riviera Maya on a luxury 45 foot (14 meter) catamaran, snorkeling in the crystal clear waters, and lazing in the sun while enjoying free drinks and snacks. Does life get any better?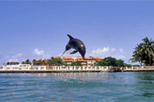 $168.99
The ultimate sea life experience! Discover the secrets behind some of the world's most intriguing sea creatures, including sea lions, manatees and dolphins! Interact and feed these gentle creatures after going on a behind-the-scenes tour where you'll learn about how these animals are cared for!