Dolphin Swims
Dolphin Swims are always great family fun! These beautiful mammals are a joy to watch and your children will cherish the memories of swimming with them forever.
Depending on the package you get, you can play with the dolphins, swim with them, take pictures with them, or even have them pull you along through the water with their dorsal fin.
The dolphins swim tours offer great photo opportunities and also allow you to get up close and personal with some of the most intelligent and photogenic creatures on the planet.
Below are some great tours at great prices for your trip to Riviera Maya.
Riviera Maya Dolphins Swims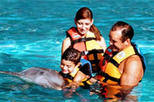 $78.99
Discover the secrets of nature's most intelligent marine creature, the dolphin! Ideal for children of all ages, the Riviera Maya Dolphin Encounter Program enables you to learn about this amazing mammal while experiencing the unique sensation of being kissed by a dolphin! Experience the excitement of seeing them perform a series of high energy, entertaining tricks!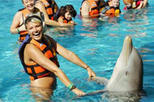 $128.99
Spend an unforgettable hour swimming with the gentle intelligent dolphins of Mexico, a short drive south of Riviera Maya. Plunge into tranquil waters as you become better acquainted with these playful mammal in the form of a handshake and a kiss. After a short orientation session, you'll be pushed around the water by the dolphins at high speeds for what is guaranteed to be an experience of a lifetime!