Horseback Riding Tours
Horseback Riding is always an adventure, but when you are able to do it along the beautiful beaches of the Riviera Maya, or in the lush jungles of the region, it takes the experience to a whole other level.
Horseback riding also provides an unmatched traveling experience in our modern world.
Not only is it fun, it gives you a real sense of history. You will be traversing the Caribbean landscape the same way people did hundreds of years prior.
Do yourself a favor and go on a horseback riding tour on your Riviera Maya vacation.
Riviera Maya Horseback Riding Tours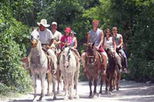 $69.99
Experience the exotic surrounds of Mexico on horseback with this relaxing day tour. Ride your horse through the tropical Caribbean landscape and enjoy a day in the Mexican outback.
Take in incredible views and spend a day in the life of real "rancheros", Mexican cowboys.