Mayan Ruin Tours
The Riviera Maya is filled with plenty of Mayan Ruins to explore.
The Yucatan pennensula has a very large density of these ruins and each is as breathtaking as the last.
Travel through long jungles roads to reach them, or if you're lucky, you might be able to just travel a short way from your resort.
Either way, the trip will surely be memorable!
Riviera Maya Mayan Ruin Tours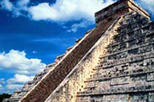 $98.99
Unlock the mysteries of the ancient Mayan culture on this fascinating full day sightseeing tour from Riviera Maya. Chichen Itza is a famous archaeological site of the mystical Maya-Toltec civilizations.
Although excavations have been going on for many years, archaeologists can still only speculate about what happened here and why. Immerse yourself in awe-inspiring archaeological places you are ever likely to visit. Lunch, snacks and all entry fees are also included.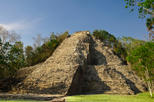 $112.99
Leave Cancun and Riviera Maya behind and take a day trip to the stunning Mayan ruins of Coba.
Climb to the top of the tallest pyramid in the Yucatan peninsula and learn historical and cultural facts about the ancient community that called Coba home. For a small extra charge, you can rent bicycles and tour the famous Coba ruins by bike.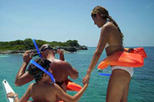 $85.99
If you want to escape from the crowds, get ready to relax and enjoy some secluded coastal hideaways. You'll experience a full day in real Mexican paradise, exploring underground rivers and caves, as well as swimming in the crystal clear inlets.
Learn how to snorkel and watch the colorful display of tropical fish or just relax and enjoy another spectacular day in the Caribbean.